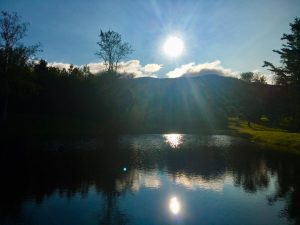 The Board of Trustees of Camp Thorpe is currently undergoing a thoughtful and careful process to find the perfect Executive Director for our 92 year old 501(c)3 Organization. Camp Operations and Programming are being managed by our Interim Director and Alumni Staff while we screen, hire, and prepare for a smooth transition for the right candidate.
Camp Thorpe, a 92-year-old camp in the heart of Vermont's Green Mountains is seeking an Executive Director to take us into our next 100 years! Camp Thorpe proudly serves campers, ages 12 through older adulthood, with a variety of physical, mental and developmental challenges in a safe, fun, and loving summer camp environment. Our perfect candidate will have experience with or a love for working with our camping population and families. The Executive Director will provide leadership and direction for Camp Thorpe while evaluating, planning, and directing camp operations, as well as overseeing the health and safety of campers, staff, and programming. We are seeking someone with experience working with an understanding of organization-building and fundraising, strong interpersonal and communication skills, proven leadership skills, a knowledge of summer camp culture and operations, a solid understanding of budget and resource management, and a sense of fun and adventure for the mission of Camp Thorpe. We welcome candidates of any race, religion, ethnicity, sexual or gender orientation, gender, or economic status to apply. Camp Thorpe is offering a generous compensation and benefits package to attract the right candidate and ensure a long tenure with our amazing organization. This position will be available to start in early or late Spring and will work with our Interim Director and Development Consultant over the summer months for a smooth transition in the Fall of 2019. To apply, please send a letter of interest and resume to: [email protected] no later than January 25, 2019.
Please find attached the job description for our Executive Director.
Applications close on January 25, 2019 and interviews will begin in February.
We will keep our Camp Thorpe community updated later in the Spring on our Website!